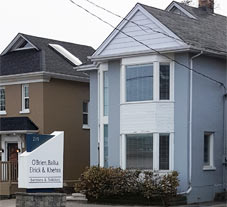 With four criminal defence lawyers in Oshawa, you can be assured you will receive the best representation from our combined experience, and that we will uncover every possible defence available to obtain the best outcome for you.
We are aggressive and creative in our approach to your defence, and use all resources available to ensure we are on the cutting edge of current legal precedent to best serve our clientele.
If you expect the best legal representation available, and want to deal with lawyers who will treat you with respect and concern, contact O'Brien, Balka & Khehra to schedule an appointment to see how we can help you.
About Us
We are a dedicated group of Oshawa Ontario, criminal, civil trial, and personal injury lawyers, passionate in our fight for the rights of our clients.
Contact Us
Address: 219 King St. East, Oshawa Ontario L1H 1C5
  1 (866) 245-5063
  (905) 576-3402
  obk@oshawalaw.com