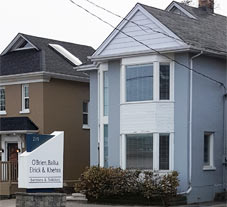 Personal injuries sustained in a motor vehicle accident, slip-and-fall or other mishap can be devastating to you and your family.
With over 50 years of combined experience, we have been fighting for the rights of people who have been seriously injured, by providing unparalleled customer service, including personal attention, comfort, information and superior representation in obtaining the appropriate monetary settlement both in Court and out.
We have and continue to represent people as a result of various personal injuries including: motor vehicle accidents, motorcycle accidents, boating accidents, aviation accidents, railroad/train accidents, pedestrian or bicyclist hit by a careless driver, public transit accidents, slip-and-fall accidents, traumatic brain injuries, injuries that result in paraplegia or quadriplegia and wrongful death of family members.
Whatever your injury, we welcome the opportunity to consider your case.
About Us
We are a dedicated group of Oshawa Ontario, criminal, civil trial, and personal injury lawyers, passionate in our fight for the rights of our clients.
Contact Us
Address: 219 King St. East, Oshawa Ontario L1H 1C5
  1 (866) 245-5063
  (905) 576-3402
  obk@oshawalaw.com