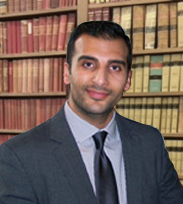 SANDIP S. KHEHRA – born Montreal, Quebec; admitted to Bar 2005, Ontario. Education: McGill University (2004) LL.B. and B.C.L. He was granted the exceptional student status and entered directly into Law School without an undergraduate degree.
He then took a leave of absence to serve as a member of the Toronto Police Service in their busiest division, 14 Division. After three years, he returned to complete his Law degree, and thereafter joined the Durham Region Crown Attorney's Office.
During his eight years as an Assistant Crown Attorney, he prosecuted many serious and complex criminal cases, including homicides. During his time as a prosecutor, Sandip was heavily involved with the continuing education of police officers. He was also the education lead for the Durham Region Crown Attorney's Office.
Sandip is fluent in English, French and Punjabi.
To schedule a consultation with Sandip, please email Alexandra at ablesse@oshawalaw.com.
About Us
We are a dedicated group of Oshawa Ontario, criminal, civil trial, and personal injury lawyers, passionate in our fight for the rights of our clients.
Contact Us
Address: 219 King St. East, Oshawa Ontario L1H 1C5
  1 (866) 245-5063
  (905) 576-3402
  obk@oshawalaw.com