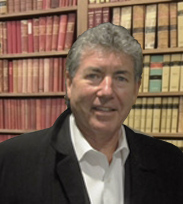 BERNARD F. O'BRIEN, born England; admitted to Bar 1977, Ontario, 1982-2004, British Columbia. Education: University of Windsor Law (1975), L.L.B., Board of Governors Gold Medalist , Harvard Law School (1982), LL.M.
He is a past Director of the Criminal Lawyers' Association of Ontario, and a past President of the Durham Region Law Association. He has been an active member of the faculty for a variety of continuing legal education series sponsored by the Criminal Lawyers' Association, the Law Society of Upper Canada and the Canadian Bar Association. He is a former adjunct Professor of Law at the Faculty of Law, University of British Columbia.
Bernie has undertaken numerous homicide and other serious criminal cases, as well as major civil litigation trials involving serious personal injury, corporate malfeasance, etc. He has also acted as counsel for various interests on a number of Commissions of Inquiry, both provincial and federal, including the Kaufman Commisson (re: Guy Paul Morin), O'Connor Inquiry (re: Maher Arar) and the Iacobucci Inquiry (re: E-Maati et al).
Bernie has received the highest rating possible from Martindale Hubbell, the world's most trusted legal resource, as recognized by his peers for excellence in both legal ability and ethical practice. http://www.martindale.com/Bernard-F-OBrien/1319142-lawyer.html
About Us
We are a dedicated group of Oshawa Ontario, criminal, civil trial, and personal injury lawyers, passionate in our fight for the rights of our clients.
Contact Us
Address: 219 King St. East, Oshawa Ontario L1H 1C5
  1 (866) 245-5063
  (905) 576-3402
  obk@oshawalaw.com